On May 8, under the guidance of Energy Conservation and Comprehensive Utilization Department of the Ministry of Industry and Information Technology of the People's Republic of China, Public Institution Energy Conservation Management Department of National Government Offices Administration, and New Energy and Renewable Energy Department of National Energy Administration, the Green Data Center Technology Conference was jointly held by Chinese Institute of Electronics and China Electronics Standardization Institute in Beijing. Chindata was invited to attend the Conference as a leading digital real estate operator in the emerging market. General Manager Xu Jun of Solution Dept. gave a keynote speech titled New Momentum of Green Energy Economic Development—Zhangjiakou Case, talking for the first time about how Chindata gathered local industries, realized local consumption of surplus green energy, created the positive cycle, and propelled the green development of the entire local digital economy through the new momentum of hyperscale data centers.
According to statistics, the total power consumption of the Chinese society in 2014 was 5,523.3 billion kWh, 1.6% of which was taken up by data centers; that figure is expected to reach 8,175.8 billion kWh by 2024, 5%-8% of which will be taken up by data centers.
As non-renewable resources peter out, traditional energy industries have also shrunk, and renewable energy sources such as solar energy, wind energy, and hydroelectric generation, i.e. green energy, have become an inevitable choice for the green development of data centers.
"As the newly built data centers of Chindata nationwide have an operating PUE lower than 1.3 and an annual average lower than 1.25, we believe the renewable energy ratio (RER) of data centers should be a weight measure for the green development mode of the industry. It is a measurable indicator that is positive for enterprises, local industrial economy, society, and environment at the same time," said Xu Jun."
It is known that the green energy sources are "rich in the west and poor in the east" in China, just opposite to the situation of economic development. The areas rich in green energy sources lag behind in industrial development, and can't achieve local consumption of such sources. Under such context, the earlier "West-to-East Power Transmission Project" mainly transmitted the energy directly to developed areas via the power grid and neither the links nor the added value benefited the energy producing areas, thus failed to drive the economic development of the producing areas.
With the development of digital economy, the data center industry has risen. Some enterprises chose to deploy the data centers in areas with surplus energy to consume the local energy sources and serve the core cities through network transmission, achieving "electricity on cloud". But those data centers are mostly for self-use, with little operational income and targets single industry, which makes it difficult to propel local economy.
However, Chindata, with its industrial practices  of hyperscale data centers in Zhangjiakou, has explored a new way of driving green economic development of the whole area based on operational data centers.
According to Xu Jun, Chindata built the first IT infrastructure of Huailai County, Zhangjiakou, relying on Guanting Lake new media big data industry. Thanks to the excellent demonstration effect of the project, more and more customers would like to settle down here, which brought into place the Circum-Capital New Generation of Information Technology Demonstration Area, and the data center industrial cluster of Circum-Capital Sangyuan Cloud Computing Industrial Base, Circum-Capital Cunrui Cloud Computing Industrial Base, and Circum-Capital Donghuayuan Cloud Computing Industrial Base has taken shape; meanwhile, the operating cost is reduced through the scale effect, offering more revenue and jobs for the area, and the data center industrial cluster also drives the upstream and downstream software industry and high-end equipment manufacturing industry to settle down here, forming a complete ecology of the whole industry chain and propelling the local economic development, so as to fully reap the development benefits of industrial upgrading.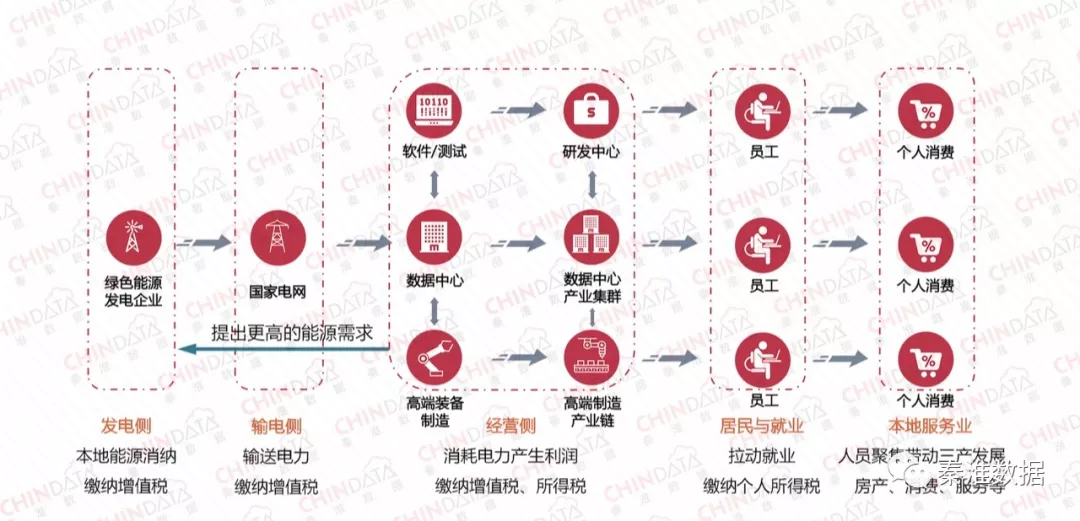 In terms of practice, Xu Jun shared that Chindata would take the combination of "energy flow", "data flow" and "business flow" into full consideration during hyperscale location planning: adjacent to transformer substations for the nearest supply of energy; adjacent to expressways and high-speed rail stations for network connectivity; and adjacent to core cities for rapid response to business.