The Path to Sustainable Development
By 'transforming electricity into cutting-edge computing power' in a stable, green, and high-quality manner,
the Group is the source of computing power that is inclusive, inexhaustible, and ready to support a digital future.
Philosophy of Sustainable Development
The Group keeps an eye on future competitiveness, with a focus on the innate attributes of computing power and the data industry. The Group has organically blended its philosophy of sustainable development with its own business strategy, operating characteristics, and corporate culture, thereby increasing operational stability, enhancing partner confidence, and building a more sustainable brand.
"SAFE" ESG Strategy System
To march steadfastly toward sustainable development and further its commitment, the Group keeps an eye on future competitiveness, with a focus on the innate attributes of computing power and the data industry. The Group has formed its "SAFE" ESG strategy system, with "Stability and transparency (Stable)," "Innovative excellence (Advanced)," "Shared future (Forward)," and "Green and efficient development (Eco-friendly)" as the core elements, to systematically supervise and manage its impact on the environment, society, and economy.
Management of Sustainable Development
The Group has been enhancing the Board's involvement in ESG matters and bettering its ESG governance. So far, the Group has formed synergy between positions of all levels and across the board to create long-term value with stakeholders.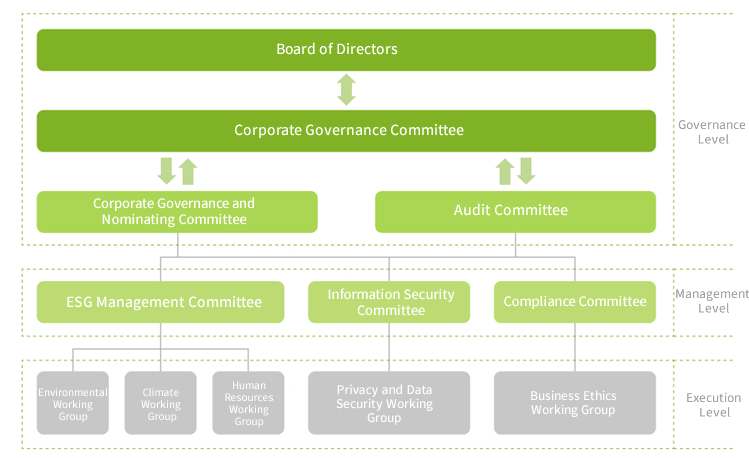 The Group continually enhances its ESG governance capabilities. In 2022, the Group updated and improved its ESG governance architecture by refining the optimization roadmap of the three-level coordinated mechanism of "governance-management-execution" and delineating the responsibilities and roles of each level.
As the central decision-making and highest governance entity for ESG governance within the Group, the Board of Directors will hold the responsibility for guiding and overseeing the Group's overall ESG governance endeavors. The Group's Board of Directors oversees its ESG work using the Corporate Governance and Nominating Committee and the Audit Committee and listens to updates from relevant working groups dedicated to environment, climate, human resources, data security, and business ethics through the ESG Management Committee, Information Security Committee, and Compliance Committee. To be specific, the work includes supervising the formulation of ESG management policies and strategies, systematically managing ESG risks, decision-making on significant ESG matters, and reviewing annual ESG reports and ESG practice projects.
Management of Risks and Opportunities in ESG
The Group is committed to integrating ESG risk prevention and control with opportunity management into its business operations. Following the guidance from
the Enterprise Risk Management: Applying Enterprise Risk Management to Environmental, Social and Governance-related Risks
issued by the World Business Council for Sustainable Development, the Group integrates ESG risk and opportunity management seamlessly into the internal control system under the existing risk management and development strategy to create long-term value.
Issues
Potential ESG risks/opportunities

Governance

Regulatory Compliance

With the increasing stringency of regulatory requirements from both domestic and foreign governments and regulatory bodies, the Group is facing higher demands in terms of its ESG governance systems and information disclosure. This means that the Group may encounter greater compliance risks and heightened investor scrutiny regarding ESG issues. To mitigate operational and financing risks, it is imperative for the Group to enhance its ESG governance system and optimize its ESG information disclosure.

Business Ethics

Implementing robust corporate governance and transparent management practices to prevent ethical risks such as corruption, embezzlement, insider trading, and unfair competition. This will enhance operational certainty and instill confidence in investors and other key stakeholders.

Society

Data Security and Privacy Protection

Strengthening data security and privacy protection, establishing comprehensive systems and policies to manage information security, fortifying defenses for data security and privacy, and enhancing the ability to respond to data security risks. Continuously improving the coverage of training for employees and suppliers on data security and privacy protection to better safeguard the rights of customers and partners in an ecosystem, thereby consolidating the stability of business operations.

Human Resources

By adhering to lawful labor and employment practices, safeguarding the rights of employees, implementing transparent and democratic management, and providing unhindered channels for employee development, we aim to ignite a sense of ownership among our workforce. This will ensure that employees become the driving force behind the growth of the company.

Supply Chain Management

The Group is regulating supplier behavior through three key aspects: admission, assessment, and supplier exit. The Group is committed to improving its supply chain management system to better identify and address potential ESG risks in the supply chain, working together with suppliers for mutual success.

Environment

Climate Change

The uncertainties associated with climate change can give rise to acute or chronic climate risks, which in turn may result in more stringent regulatory requirements, shifts in market sentiment and expectations, and uncertainties surrounding the utilization of resources and energy in data centers. These factors have the potential to lead to asset depreciation and a decline in business revenue.

Environmental Management

In data center operations, we are committed to our "zero-carbon computing" strategy, focusing on key environmental indicators such as PUE, WUE, and CUE. Our primary goal is to address challenges such as the significant increase in server power consumption and the mounting pressure for server cooling through technological innovation. By doing so, we aim to establish a green computing center providing computing power that surpasses customer demands while also prioritizing environmental sustainability. This approach will strengthen our core competitiveness as a company.
Our Environmental, Social, and Governance (ESG) Report
More Policy
Global Recognition
Open Data Center Committee

China Communications Standards Association

The Green Gauge Standard Committee

United Nations Global Compact (UNGC)

RE100